What a festival! So many fantastic readings in one weekend - Carol Ann Duffy filled St Mary Magdalene and it was great to see so many people from Woodstock and so many regular customers there.
Saturday's readings were just as well attended - Stanza 2 from Oxford all read their work, and we had tea afterwards in the church hall so people could chat.
Peter Macdonald, who lives in Woodstock, introduced Michael Longley and the hour that followed was very special. One of the poems he read was Marigolds 1960, and if you click
here
you can hear him reading it - and introducing it, too: his introductions were perfect, leading you gently to the poems so that when he read each one you encountered it as something already slightly familiar.
The Irish theme continued with an evening of poems and music from Irish traditional singer Mick Henry, a regular at the Half Moon in Oxford on Sunday evenings; guitarist Nick Hooper (who runs pop-up folk sessions in Stonesfield) and poet Bernard O'Donoghue, with often reads with Mick. Mick perched on Mr Taylor's old work-stool, left in the kitchen here since I took the shop over from the electrical business in 2008 - I knew it would come in useful some time! The reading by Michael Longley had been so extraordinary it didn't seem as though it would be easy or even possible to follow, but the music created a wonderful atmosphere in the church and framed the poems perfectly and the magic continued. We had more people than we could fit and have promised to try and do another similar evening.
The Carcanet reading on Sunday was a particularly moving event - they each read beautifully - below is a taster, the title poem from Andrew McNeillie's collection:
Winter Moorings
Anchored stern and bow, sea-logged to the gunwales:
So I have moored my mind for the winter ahead.
To be the more sea-worthy if all else fails
Come better weather and spring buries its dead.
Neil Astley had driven all the way down from Newcastle for his introduction to Rosemary Tonks - he and Jo Shapcott gave an excellent introduction to Rosemary Tonks' poems - Jo read several and described how she had got to know the poems; Neil filled us in on the biographical background and told us how he finally published her work.
Liz Berry and Katrina Porteous had never met and never read together before, though Liz has long known and been influenced by Katrina's work. Together they wove a very particular and electric magic. Both are brilliant performers - Liz is elfin, with an unexpectedly husky and arresting voice and she reads with the most tender Black Country accent; Katrina filled the church with resonant declamations (at one stage getting the audience to participate in a choral poem) and brought the language of Northumberland fishermen alive again for us - as someone wrote to me yesterday, 'that was a stunning festival, with superb poets and an enthusiastic audience. The women at start and finish shone out like diamond bookends.'

Jenny Lewis organised a Poetry Platform in The Woodstock Arms (who kindly served soup) - a lovely way to end the festival, sitting in the pub listening to local poets...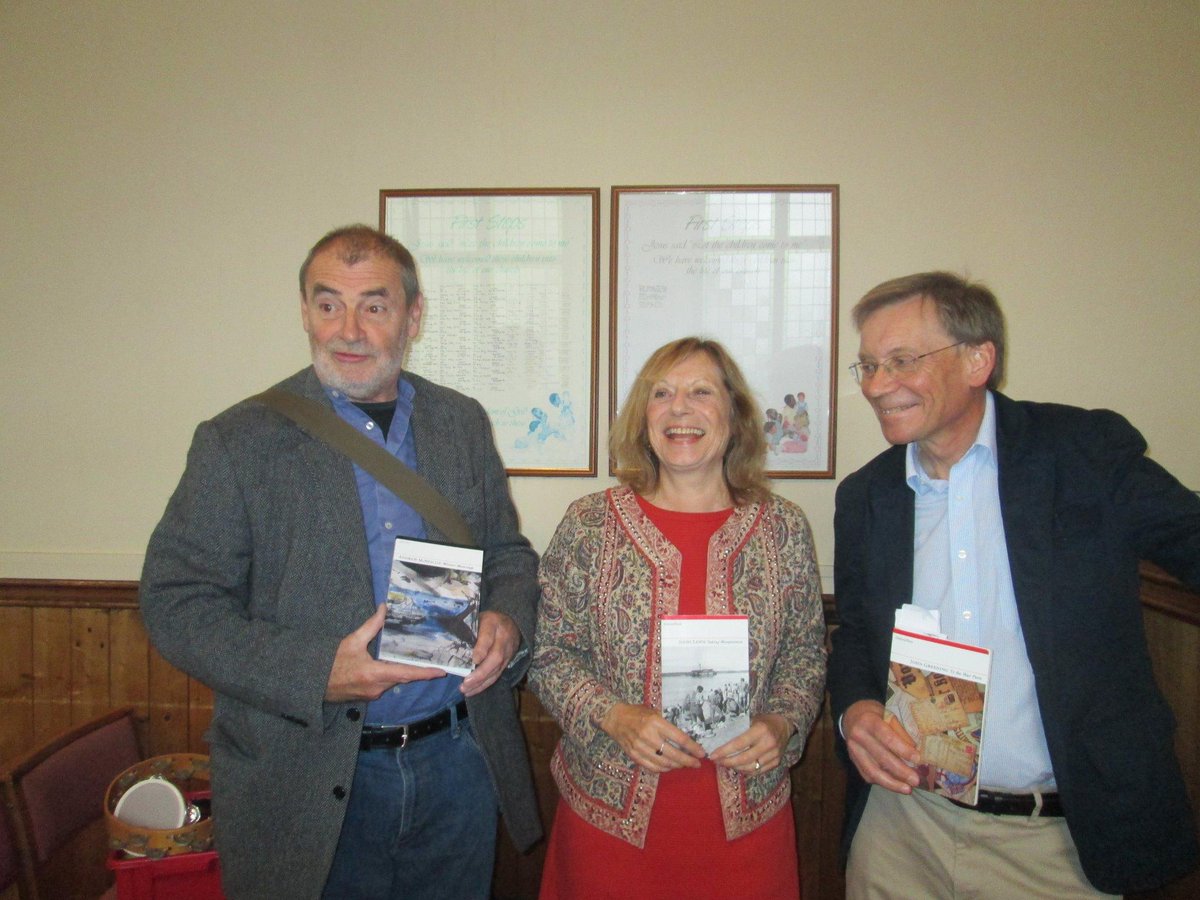 (left to right) Andrew McNeillie, Jenny Lewis and John Greening, three Carcanet poets
Michael Longley signing a book for Pat Winslow
Neil Astley with Rosemary Tonks' niece
(left to right) Cathy O'Neill and her daughter Emily Pritchard with Jo Shapcott
having tea following the Rosemary Tonks reading
Katrina Porteous signing books
Liz Berry reading in Woodstock Methodist Church...
...and signing afterwards
The end of Carol Ann Duffy's reading - she can just be seen in the far distance standing on the left, while I, an equally tiny figure, am thanking her!